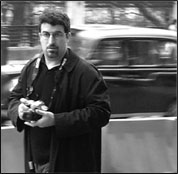 about the artist
Best known for his critically acclaimed work that envisioned and redefined the entire MARVEL COMICS universe in the maxi-series EARTH X, JOHN PAUL LEON's bold and dramatic work has influenced many of today's young talents. Some of his other notable works include the critically acclaimed THE WINTER MEN, LOGAN: PATH OF THE WARLORD, THE FURTHER ADVENTURES OF CYCLOPS AND PHOENIX, CHALLENGERS OF THE UNKNOWN, and cover artist for DMZ.
JP began his professional comics career while he was attending the SCHOOL OF VISUAL ARTS in new york city, drawing the DC COMICS/MILESTONE title, STATIC. In 1994, he received his bachelors in fine arts from SVA and would move on to tackle top pop culture icons like SUPERMAN, BATMAN, and the X-MEN.
In addition to his comics work, JP has also contributed style guides for movie projects, including SUPERMAN RETURNS, BATMAN BEGINS, GREEN LANTERN, and DARK KNIGHT. He is currently working on a BATMAN mini-series.
JP lives in miami, florida.